As a 501(c)3 organization, TxTRC relies on donations and community support to fulfill our mission. This funding provides care for our therapy horse herd, facility maintenance, and providing equine assisted activities and therapies to our clients. We are thankful for your support to continue to be a community where horses heal at Texas Therapeutic Riding Center.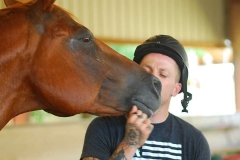 Monetary Donations
You can make a tax-deductible donation in support of TxTRC online or by mail. A tax receipt can be provided via email or mail:
Mail a check to P.O. Box 903, Wylie, TX
Make an online donation here
Make an online donation through PayPal link below
Employee Giving
Workplace giving programs allow you to give effortlessly by automatically contributing a portion of your paycheck to TxTRC. Many companies also offer donation matching programs which allow you to double, or sometimes even triple your charitable contributions without a second thought. Talk to your employer to find out what types of employee giving options are available to start multiplying your generosity!
Annual Donor or Event Sponsorship Packages
TxTRC offers many annual sponsorship packages, include Horse Sponsorship. Contact us for more information on these opportunities.